For the week of Nov 16, 2009 — Vol. 7, Issue 46
Last Week in Review

"A STEP IN THE RIGHT DIRECTION…BUT DON'T PUSH YOUR LUCK."

"A STEP IN THE RIGHT DIRECTION…BUT DON'T PUSH YOUR LUCK." Barbra Streisand obviously wasn't singing about Bond prices or interest rates in her 1980's song. But those lyrics were fitting last week when the Federal Reserve stepped in with more buying of Mortgage Backed Securities (MBS), helping Bond prices recover from news of a weak Treasury Auction. Overall, home loan rates bounced around last week and ended the week very slightly improved.

But that said, we can't "push our luck" and think the Fed will continue to step in and help support home loan rates…we have to remember that the Fed is actually winding down exactly this type of buying support.

As you can see from the chart below, the Federal Reserve's purchases of MBS peaked at an average of $25 Billion per week back in May – and they are getting closer every day to being done spending their allotment of $1.25 Trillion. Since they announced that their remaining purchases would be rationed out until the end of March 2010 – but that they wouldn't be making any additional purchases beyond the original commitment – the average purchases per week have been moving lower, down to $14 Billion per week so far in November.

———————–
Chart: Fed's Purchase of Mortgage Backed Securities (Weekly Averages Per Month)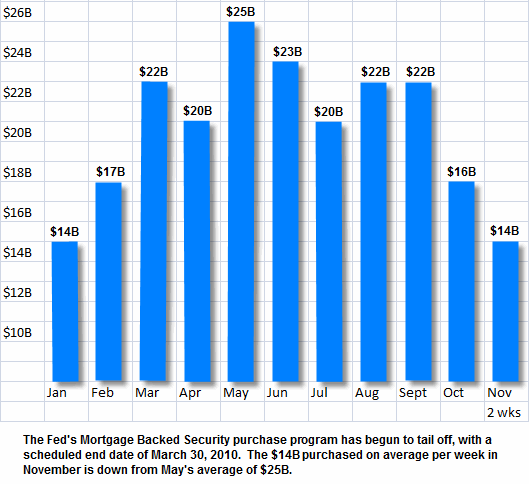 Why is this important? Because home loan rates are based on MBS – so when the Fed agreed to be a big buyer, it helped provide a market and helped keep MBS prices high and home loan rates low. So as the Fed's program wraps up and eventually stops, home loan rates are quite likely to be on the rise. So while rates are still very good, they may not be for long. Let's be sure to talk if you haven't yet explored how the current rate environment might benefit you or someone you know.
More employment news arrived, and it is interesting to hear the media and other experts proclaim it to be "all good news". Initial (or First Time) Jobless Claims came in at the lowest reading in 10 months and Continuing Unemployment Claims also fell lower as well – and at first blush, this seems to be very good news. But looking closer, we see that the lower Continuing Claims number was probably the result of unemployment benefits expiring before people could find work – rather than people dropping off of benefits because they found a job. Now that unemployment benefits have been extended by new legislation, we should get a more accurate look at how many people are actually unemployed.
SPEAKING OF EMPLOYMENT… IF YOU OR SOMEONE YOU KNOW IS LOOKING FOR A JOB, TAKE A LOOK AT THE SPECIAL MORTGAGE MARKET GUIDE VIDEO VIEW BELOW ON TIPS FOR A SUCCESSFUL JOB INTERVIEW. IN TODAY'S CHALLENGING JOB MARKET, A LITTLE EXTRA PREPARATION MIGHT JUST BE THE KEY TO LANDING THAT POSITION.
Forecast for the Week


This coming week is loaded with high-impact economic reports. On Monday, we'll get a glimpse of consumer's pre-holiday spending patterns when the Retail Sales report is released. You may have seen that many retailers have started the sales and specials early this year, as well as reintroducing the "layaway" option for purchases – all designed to help keep this holiday season from being dismal for retailers.

Inflation news is also on tap this week, as the Producer Price Index is set for release on Tuesday, with the Consumer Price Index following on Wednesday. Also on Wednesday, we'll get a look at the health of the new construction sector of the housing industry with reports on Housing Starts and Building Permits.

Thursday, we could see some volatility in the markets when the Treasury Department announces next week's auctions, which will include offerings of 2-year, 5-year, and 7-year Notes. Remember, these auctions will likely continue to cause volatility, as the Federal Reserve has ended their buying program for Treasuries, and as we discussed, has also now started to scale back their purchases of Mortgage Backed Securities (MBS). As the Fed ramps down and ultimately ends their support of the MBS market at the end of March, watch for home loan rates to rise.

Remember: Weak economic news normally causes money to flow out of Stocks and into Bonds, helping Bonds and home loan rates improve, while strong economic news normally has the opposite result. As you can see in the chart below, Bond prices hit a two-month low on October 26th – which had caused home loan rates to worsen – but Bond prices have since been pushed higher by continued Fed buying and some weak economic data.

Chart: Fannie Mae 4.5% Mortgage Bond (Friday Nov 13, 2009)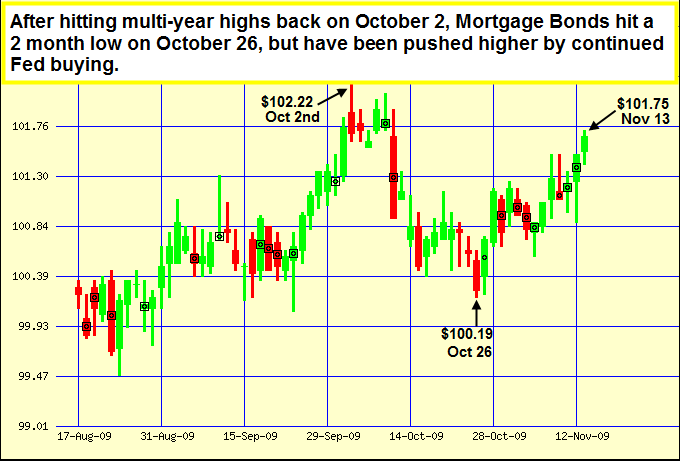 The Mortgage Market View…

5 Secrets to a Job Interview
Earlier this month, the Labor Department reported that 190,000 jobs were lost in October and that the Unemployment Rate has risen to 10.2%. It's always important to be prepared anytime you go on a job interview, but in today's competitive market it is more important than ever. In this week's special Video View, check out a video from www.Kiplinger.com called "5 Secrets to a Job Interview."
The Week's Economic Indicator Calendar


Remember, as a general rule, weaker than expected economic data is good for rates, while positive data causes rates to rise.
Economic Calendar for the Week of November 16 – November 20
| | | | | | | | |
| --- | --- | --- | --- | --- | --- | --- | --- |
| Date | ET | Economic Report | For | Estimate | Actual | Prior | Impact |
| Mon. November 16 | 08:30 | Retail Sales | Oct | 0.9% | 1.4% | -2.3% | HIGH |
| Mon. November 16 | 08:30 | Retail Sales ex-auto | Oct | 0.4% | 0.2% | 0.4% | HIGH |
| Mon. November 16 | 08:30 | Empire State Index | Nov | 30.00 | 23.51 | 34.57 | Moderate |
| Tue. November 17 | 08:30 | Core Producer Price Index (PPI) | Oct | 0.1% | | -0.1% | Moderate |
| Tue. November 17 | 08:30 | Producer Price Index (PPI) | Oct | 0.5% | | -0.6% | Moderate |
| Tue. November 17 | 09:15 | Capacity Utilization | Oct | 70.8% | | 70.5% | Moderate |
| Tue. November 17 | 09:15 | Industrial Production | Oct | 0.4% | | 0.7% | Moderate |
| Wed. November 18 | 08:30 | Core Consumer Price Index (CPI) | Oct | 0.1% | | 0.2% | HIGH |
| Wed. November 18 | 08:30 | Consumer Price Index (CPI) | Oct | 0.2% | | 0.2% | HIGH |
| Wed. November 18 | 08:30 | Building Permits | Oct | 580K | | 573K | Moderate |
| Wed. November 18 | 08:30 | Housing Starts | Oct | 600K | | 590K | Moderate |
| Wed. November 18 | 10:30 | Crude Inventories | 11/13 | NA | | NA | Moderate |
| Thu. November 19 | 08:30 | Jobless Claims (Initial) | 11/14 | 504K | | 502K | Moderate |
| Thu. November 19 | 10:00 | Index of Leading Econ Ind (LEI) | Oct | 0.4% | | 1.0% | Low |
| Thu. November 19 | 10:00 | Philadelphia Fed Index | Nov | 12.0 | | 11.5 | HIGH |